BANAS DAIRY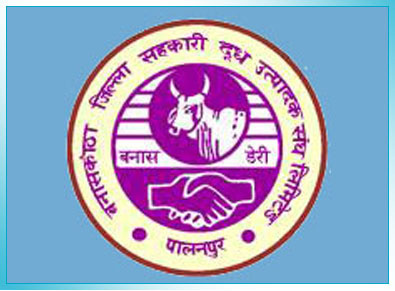 The Banaskantha District Cooperative Milk Producers' Union Limited, Palanpur, better known as the Banas Dairy, is a cooperative organization established in the year 1969 under the Gujarat Co-operative Societies Act 1961. It was set up with the support of National Dairy Development Board (NDDB), as a part of their Operation Flood Program. 

Soon after its establishment, the dairy acquired 122 acres near Jagana village and the foundation stone for a modern dairy plant was laid on January 14, 1971. At that time the dairy had a capacity to handle 1.5 lakh litres of milk, Its capacity took another quantum leap in 1998 when the foundation stone for Banas Dairy II was laid. 

By 2000, highly automated liquid milk and powder milk plants were in operation, and today the dairy has multiple chilling centres with the capacity to handle about 21 lakh litres of milk daily. Currently there are 1350 village co-operatives on its rolls with over 2.25 lakh individual members. The Banas Dairy team is in constant touch with the members providing them necessary inputs and technical advice when required. For example it supplies cattle feed to the milk producers and has an Internet project "Chirag", through which it provides Internet connections to the rural areas at subsidised rates.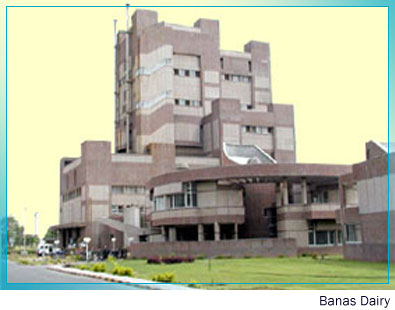 The dairy manufactures a wide range of popular products including milk, butter, ghee, ice creams, milk powder, tea, pedas etc which are sold under the Amul, Sagar and Banas brands. 

The dairy also runs several energy conservation projects both at the plant level and for the producers. 

Recently the dairy has launched an innovative scheme to combat malnutrition among children. Under it all the co-operatives will be required to set aside some portion of their produce in special cans marked 'Bhagwan no Bhag' for distribution to children either through the aanganwadis or the village mandir. 

Following three consecutive good monsoons, the dairy has also encouraged all its members to actively participate in a greening campaign by planting and maintaining one sapling each per household. To ensure that good care is taken of the saplings, the dairy will organize poojas and religious processions at the time of planting. The dairy is planning to procure medicinal and other useful saplings which will be useful to the farmers for this project. 

"Palanpur's Banas Dairy Becomes Largest Milk Procurer in India"